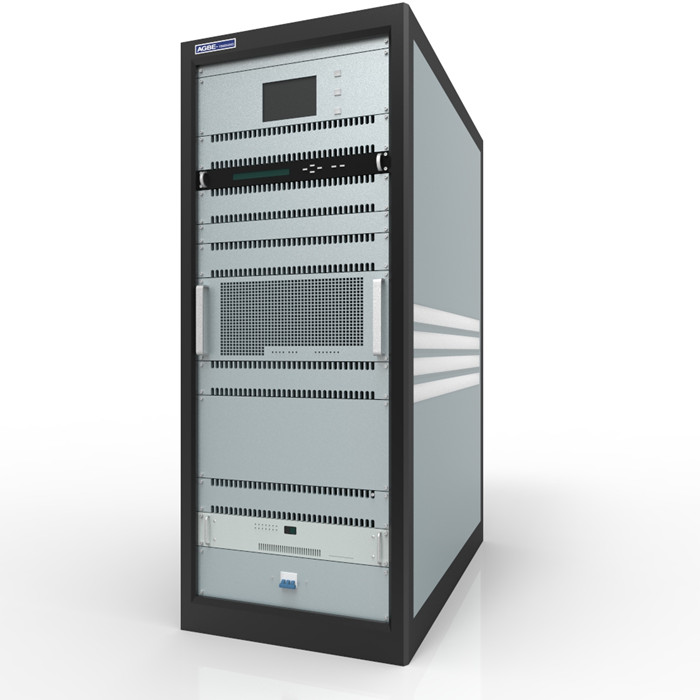 Add to Favorites
Share
Uhf Digital Transmitter
Payment

Origin

China Mainland

Minimum Order

5

Packing

Pieces
Product Detail
Features

1. Solid state digital TV transmitter,6MHz, 7MHz 8MHz band-width (optional),

2. Available for MFF and SFN system,

3. DMB-T or DVB-T modulator,

4. Output power : 200Wrms-3KWrms,

5. Shoulder level : -35dB.

6. Dual exciters with automatic switchover,

7. IF pre-distortion correction,

8. High linearity LDMOS power amplifier, hot plug-in, high gain power amplifier module.

9. Hot plug-in switching mode regulator connected in parallel for high efficiency,

10. PC remote control & telemetry system network interface and software.

11. Good man-machine interface automatic turn-on/off transmitter and touching screen display and operation.

12. Multiple protections against over voltage over current, excessive temperature high VSWR humidity, and lightning...,high reliability and keeping work for 24 hours.

13. Patent technology of AGBE, all functional modules are developed and manufactured by AGBE.




Company Introduction

AGBE has been focusing on broadcasting and communication industry for over 20 years. Located in Anshan, Liaoning, the software and electronics base of China, AGBE has an excellent research team with abundant professional experience in broadcasting and telecommunication industry.

AGBE has done many turn-key projects for over 30 countries all over the world, the proper solution with competitive price bring AGBE more and more client. Meanwhile, AGBE afford client the best service after sales in China, and provide free training in factory to help client have their own technical support team.

AGBE is focusing on affording customer a easy way for broadcasting and communication.





FAQ

1. Coverage of FM transmitter and TV transmitter.

The main parameter which decides the coverage is height of tower, so people install the antenna on very tall tower or build the tower on top of mountain. The signal has attenuation in air transmission, so people use large power of transmitter to supply the power loss. In a word, the main reason of coverage is relative height of tower to ground, secondly is power of transmitter, thirdly is antenna gain.

2. How can I know my coverage.

You can tell us the power of transmitter you have and height of tower plus coordinates if possible, then we can calculate the coverage for you.

3. Can I change the frequency.

For FM transmitter, the frequency is agile, you can select any frequency within 88~108Mhz. For TV transmitter, the bandwidth is narrow, you can just select adjacent 2 or 3 channels.



2
YRS
Anshan General Broadcasting Equipment Co., Ltd.
China
Favorites